Jim Simmons
was born and raised in Syracuse, N.Y. He studied at the Pennsylvania Academy of the Fine Arts (1965-1969).
After living in Philadelphia for ten years he moved to rural Pennsylvania and continued painting the landscape in earnest; frequently returning to the Adirondacks, traveling across the U.S., and living now in the Pacific Northwest where he continues to find new inspiration while remembering his routes - Rivers and roads, mountains fields and sky, day and night, endless variety of light.
images © jim simmons - all rights reserved
Oil Landscapes
"I love the dynamic of painting, on site or in the studio, and marvel at the power of well placed marks to convey the rhythms of form, color, texture and atmosphere that combine to reveal a sense of place."
Collages
INEXSITU INteriorEXteriorSITUations Collage explorations. EXIST IN U
Found object juxtapositions bridge the space between layers of consciousness.
Subtle contextual anomalies reference the dream state, a vast ocean of possibility residing in each of us.

Sketchpad

These paintings were completed on my iPad- (a marvel of convenience when traveling), using an app that replicates most of the physical characteristics of various painting mediums with no mechanical augmentation.
Gouache

Gouache is an opaque watercolor medium. These were done on black archival paper during a trip through Colorado and New Mexico.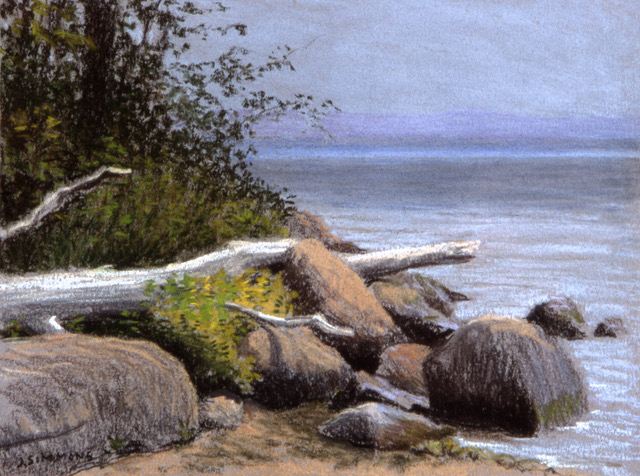 Pastels
These pieces were done on location using colored Canson paper. Choosing a paper tone that is congruent with the feel of the subject enhances the overall accuracy and depth of the final representation.